Xmodgames apk (also called xmod apk, xmodgames, xmod) for android is the Best and Free Game Assistant. Xmodgames apk helps you to easily hack scores of many games  easily even if you were facing trouble to hack game scores using other tools because it is the easiest method.
Note: Xmodgames apk is only way to hack online games or server sided games like clash of clans on Android. As wll as it can also hack offline games. 
DOWNLOAD LINK::-
CLICK HERE TO DOWNLOAD XMODGAMES APK. Please read features and usage guide about xmodgames with screenshots below.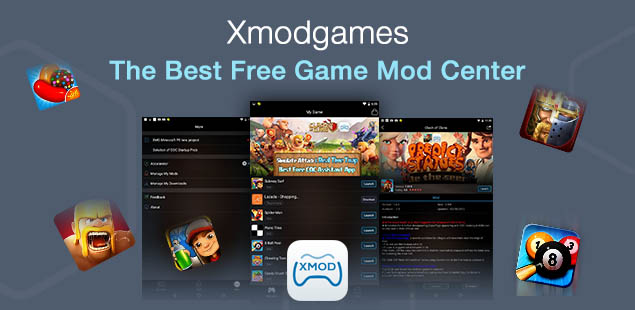 What can you do with Xmodgames Apk?
Save time for gamers,Improve gaming efficiency, Bettergame experience
Games Supported
Clash of clans:
Search Loot
Real Time Traps
Sandbox Attack
Minecraft PE:
 TMI
 Add Items
 Add Mobs
 Teleport
Backpack Management
Clash Of Kings:  Auto Resource Collect
Agar.io: Random Skin
8 Ball Pool: Skip FREE Building
Subway Surfer: Multiplier Scores
Criminal Case: Unlimited coins
Other features:–
Gadgets to enhance social interactions in games
Build-in Screen Capture & Smooth HD Record
Forums and Chatroom to Discuss & Share Live Game Experience
Recommend Interesting Tools to Download.
Requirement:
Rooted Android Device.
How to use Xmodgames Apk?
Its very easy to use xmod games. Just follow some steps below and you can hack any game easily.
Download Free Xmodgames apk.

Click Here

to download.
Install Xmodgames. You have to enable installation from unknown sources in your device settings.
Open Xmodgames after installing it.
 Select "Mod" page. There you can see the name of all the games that can be hacked by xmodgames. Then choose the game you want to hack if it is in the list there.
You can see introduction and many other things about the game there. You will see "Install" at the last of the page. Tap on "Install" and wait until it installs mod for the game.
Now, finally you can Open the game directly or you can even open game by tapping "launch" botton.
Congrats!!!! You have successfully hacked game using  Xmodgames. Now, Enjoy!!!!
Supported languages:
Available in English (UK and US), Spainish, Portuguese, and Russian
DOWNLOAD LINK::-
CLICK HERE TO DOWNLOAD XMODGAMES APK.